Course details
«Sashimi & Premolu OK» Fresh cooking course in season 2 hours with [drinking] 8 items 4000 yen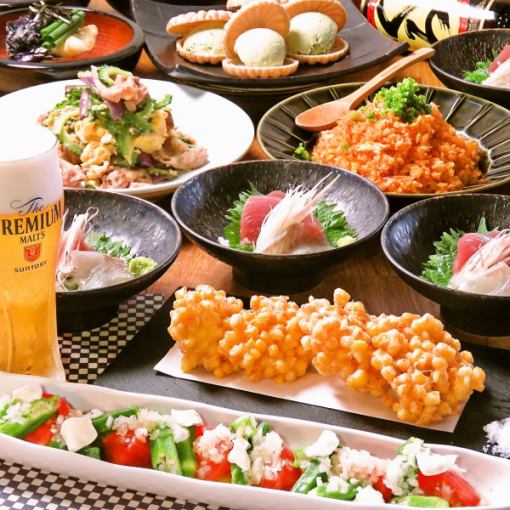 All-you-can-drink available
Reservation deadline

Visit of hope the day before until 23:00
Available days for reservation

Friday, Saturday and Public Holiday
You can extend for 1 hour at + 500 yen! ♪ I'm multipurpose creative cuisine feels the season ♪
Course menu
«Miscellaneous (example)»
【Small bowl】 "Today's small bowl"
【Buying】 "Market direct delivery! Boasting sashimi platter"
Please enjoy the best sashimi of the day.
【Salad】 "Tomato and Okra's Salad ~ Homemade Non-Oil Dressing ~"
Please have fresh vegetables cultivated at Hirano or our own farm.
【Meat dishes】 "Pork belly and goya champloo"
【One article】 "Kauned corn"
[Fish dishes] "Deep fried eggplant with flat eyes"
Refreshing with refreshing taste.
【Rice】 "Pilicious! Kimchi fried rice"
【Sweetness】 "Homemade powdered green tea ice mid"
It is a very popular dish like regulars!
※ Please do not hesitate to contact us as you like.
※ The content is an example.It may be changed by purchase.
※ 1 hour extension is + 500 yen!
All-you-can-drink menu
· ☆ ☆ draft beer
Premium Malt
· ☆ High Ball ☆
Beam highball / corner highball
· ☆ ☆ cocktail
· Campari / Campari Orange / Campari Grapefruit / Gin Tonic / Jimbuck / Vodka Tonic / Moscow Kool / Screwdriver / Bulldog / Cassis Soda / Cassis Orange / Cassis Grapefruit / Cassis Oolong / Peach Soda
· ☆ ☆ cocktail
· Fuzzy Nebul / Pachece Oolong / Ditatonic / Dita Orange / Detagamefruit / Mango Soda / Mango Orange / Mango Grapefruit / Luminous Forest
· ☆ Shochu high ☆
· Shirako Shochu High / Litchi Shochu High / Yuzu Chi Hi / Rinko Sho High
Um plum wine
Rock / whiskey and water / soda split
· Shochu ☆
· 【Potatoes】 Kozuru Kuroro
· ☆ soft drinks ☆
· Oolong tea / cola / ginger ale / orange juice / grapefruit
· ☆ non alcoholic cocktail ☆
· Cassis soda / cassis orange / cassis grapefruit / cassis oolong / fuzzy navel / pachet oolong / peach soda / ratta ton / deta orange / deta grapefruit
· ☆ Grass wine ☆
Red / white
2018/09/12 update